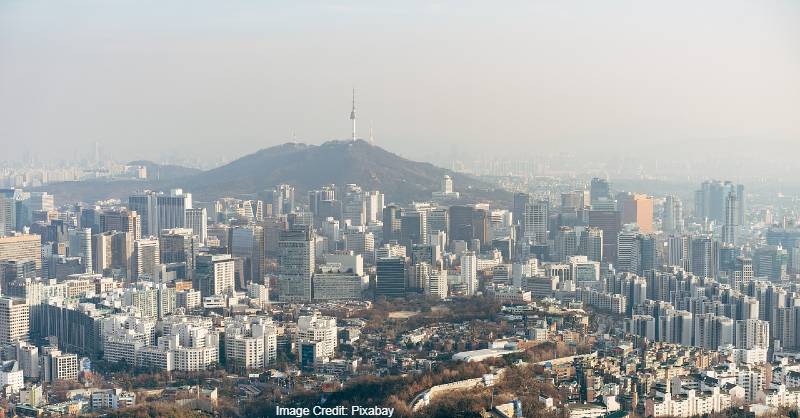 The N Seoul Tower, officially known as YTN Seoul Tower, is South Korea's first-ever general radio wave tower, which provides TV and radio broadcast signals in Seoul, the country's capital. Standing at 236-meter (774 ft)-tall, it is the second-highest point in Seoul.
The tower is so popular that it welcomes around 8.4 million visitors and tourists annually.
The N Seoul Tower was completed in 1971 (construction started in 1969) at a cost of $2.5 million and it was opened to the public in 1980. It has since become a much-loved landmark of the Korean people.
The tower's main attractions include:
a) Multi-colored digital art projected onto the tower at night
b) A digital observatory
c) A roof terrace
d) The HanCook and n.Grill restaurants and the Haneul (Sky) Restroom.
The N Seoul Tower's mountain surroundings on Namsan Mountain have made it a popular place to unwind for locals and tourists alike.
The N Seoul Tower also has a number of viewing platforms where visitors and tourists can enjoy the nighttime or daytime cityscape of Seoul. The tower's Digital Observatory is unique for having an astonishing 360-degree panorama over the city, and 32 LCD screens recounting the 600-year history of Seoul.
Source: Nseoultower and Visitseoul
Monday
10:00 AM - 11:00 PM
Tuesday
10:00 AM - 11:00 PM
Wednesday
10:00 AM - 11:00 PM
Thursday
10:00 AM - 11:00 PM
Friday
10:00 AM - 11:00 PM
Saturday
10:00 AM - 11:00 PM
Sunday
10:00 AM - 11:00 PM