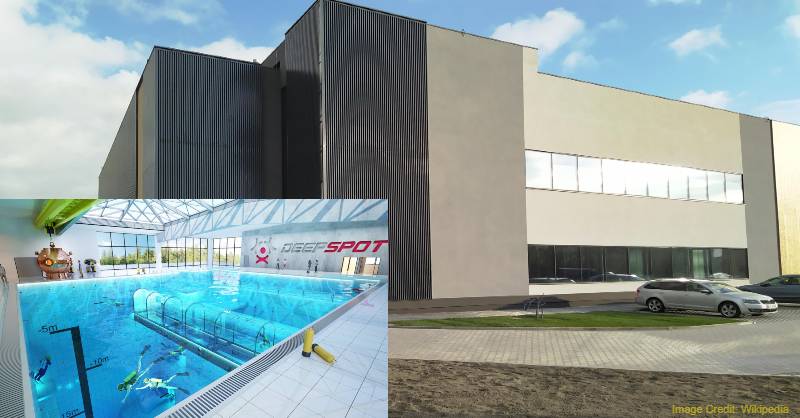 45 Warszawska , Mszczonów, Mazowieckie 96-320, Poland
The Deepspot pool, at 45 meters deep, is the deepest pool in the world. The pool, about the volume of 24 Olympic-sized swimming pools, can hold 8,000 cubic meters of water. 
This recently opened pool, in December of 2020, is said to be deeper than the Y-40 Diving Pool, in Italy, which at 42m Deep, was the Guinness World Record holder for the world's deepest pool. 
The Deepspot pool, one of the tourist attractions near me, took over two years to complete at an estimated cost of $10.6 million, is a training center for divers, with varying levels of experience, who wish to develop additional diving skills. 
The pool includes a transparent viewing tunnel for non-divers/tourists, underwater caves, and a shipwreck.
Deepspot is a great tourist attraction, as it is also said to be built to accommodate underground restaurants, hotel rooms, and conference spaces, most with windows that look directly into the pool.
Source: DiscoveryBit and Wikipedia
Monday
12:00 PM - 11:00 PM
Tuesday
12:00 PM - 11:00 PM
Wednesday
12:00 PM - 11:00 PM
Thursday
12:00 PM - 11:00 PM
Friday
12:00 PM - 11:00 PM
Saturday
8:00 AM - 12:00 AM