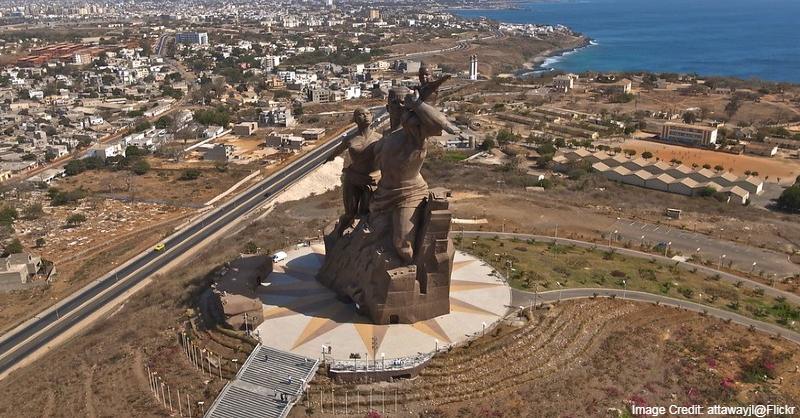 The African Renaissance Monument, a copper statue with a height of 52 meters, is the tallest statue in Africa. The Statue was unveiled in the presence of 19 African heads of state in 2010. The African Renaissance Monument is a representation of the achievement of Africans despite the discomforting history of slavery and colonization that has left an indelible impact on the life and culture of its people.
When looking for one of the tourist attractions to visit in Africa, this is a very relevant one because of its historical significance. It is an initiative of the former Senegalese president, Abdoulaye Wade who thought of an artistic way to represent Africans, their struggle, and undaunted spirit in the face of challenges. It depicts the common identity and story of Africans. This makes it an attractive destination for lovers of arts intending to understand Africa through the monument.
The African Renaissance Monument mightily structured on the top of one of the two twin hills called Collines des Mamelles outside the city of Dakar. It was designed by a Senegalese architect and built by a North Korean construction company. The preparation of the site for the construction begun in 2006 while the main construction of the statue began in 2008.
Today, it is a major tourist attraction that welcomes thousands of visitors intending to see the mighty structure that has been dubbed the tallest statue in Africa. The structure is a representation of a muscular man and a woman holding a baby to represent the exposure of the continent to the whole world, its force of attraction, its stability, and its lasting peace.
Visiting this tourist attraction offers you an insight into African history as represented by the statue and the beauty of the location where the statue is built. When going to enjoy the cultural history of Senegal, known for its griots–a member of a class of traveling poets, musicians, and storytellers who maintain a tradition of oral history in parts of West Africa. It is equally a very good idea to enjoy the sight of a place that has huge historical significance and also take pictures for the sake of documentation.
Source: Wikipedia, Au Senegal
Wednesday
9:00 AM - 7:45 PM
Thursday
9:00 AM - 7:45 PM
Saturday
9:00 AM - 7:45 PM