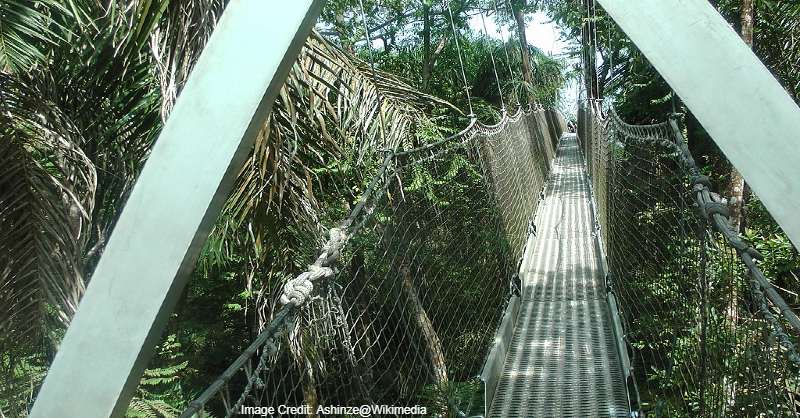 The Lekki Conservation Center, aside from its rich natural resources, is distinguished for its suspended canopy walkway that offers a fascinating view of the conservation center from high above the treetops. It is considered the longest canopy walkway in Africa and one of the longest in the world.
Africa is a continent distinguished for its richness in nature. And the Lekki Conservation Center is one of the best tourist attractions and an oasis of nature, situated in Africa, in one of the busiest economic cities in Nigeria. It is a tourist attraction that offers an interaction with nature as well as exciting side attractions to give visitors a memorable experience. This attribute may explain its more than 95,000 yearly visitors.
Lekki Conservation Center was founded by the Nigerian Conservative Foundation in 1990 for the main mission of preserving the biodiverse coastal ecosystem of this part of the world. Besides, it was founded to be a place of learning about the importance of nature and how to preserve it to protect the continent. It is a breeding place for wildlife, rare birds, monkeys, and tortoise.
The conservation's home city is a place distinguished for its entertainment and business, and the conservation center is committed to giving thousands of visitors trooping in to see the amazing gift of nature a lasting memory that stays with them for life. Some of the activities that visitors can engage in include floor games like ludo, chess, tennis, and so on. There are also other places to spend some fun time like the treehouse, nature station, rotunda, family huts among many other places to enjoy your trip to this tourist attraction.
If you want to have a feeling of a serene environment with a nearly uncontaminated atmosphere, this is a place you should go. Located in the heart of the most populated African country, it can always serve as a good place to discover, understand and engage in close interaction with nature and its amazing creatures.
Source: Wikipedia, Nigeria Conservation Foundation
Wednesday
8:30 AM - 4:30 PM
Thursday
8:30 AM - 4:30 PM
Saturday
8:30 AM - 4:30 PM