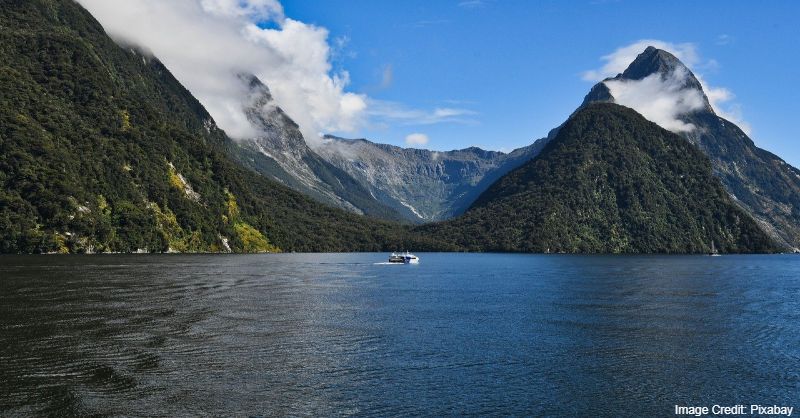 Southland 9679, New Zealand
Milford Sound, a fiord in New Zealand, has been ranked as one of the top travel destinations in the world (2008).  The fiord is one of the most beautiful tourist attractions near me, and Rudyard Kipling named it the 8th Wonder of the World.  The Sound is located within a UNESCO world heritage site, Fiordland National Park.
Milford Sound is the wettest inhabited place on earth, and can see more than 10 inches of rain in just two hours.  It is surrounded by rainforest, and the water is stained black from the water runoff.  Do not let that deter you, though, as these are the best conditions to view the waterfalls.  There are two permanent falls, but more will appear after a strong rainfall.  You may also see a tree avalanche, which happens when so much water rushes through the forest that the tree roots themselves are washed downhill.
Over 550,000 tourists visit Milford Sound per year.  Because of the dense salt water, the Sound is one of the best places to view rare Black Coral.  It also plays host to seals, dolphins, whales, and even penguins.  The best way to see these animals is to arrange a boat cruise.
There are a variety of boat cruises available, but the best will take you to the Under Water Discovery Centre, which is only accessible by boat.  Here you will descend 10 metres beneath the water, to view the vegetation and animals underwater.  After you have visited the observatory, you can also kayak around the bay.
The Sound is accessible by car, but if you are an inexperienced driver, you may consider taking a tour bus from Queenstown (4 hours), or Te Anau (2 hours).  When driving to Milford Sound from Te Anau, try to stop at Mirror Lake, also located within the national park, to view the mountains in the incredibly reflective waters.  Parking is available for $20 for 5 hours, allowing plenty of time to sightsee.