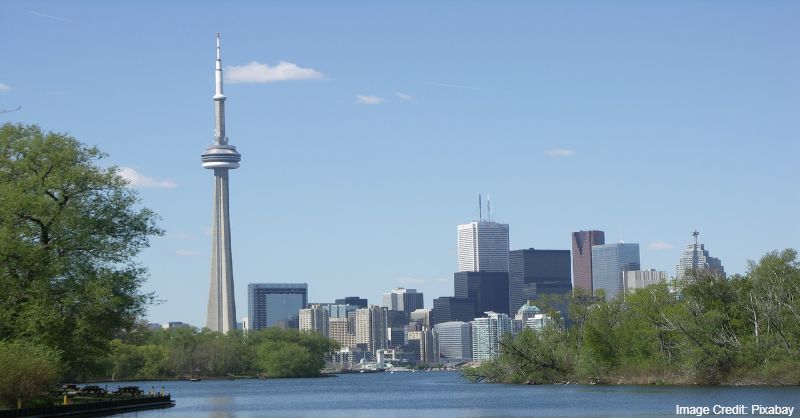 267-273 Front Street West , Toronto, Ontario M5V 2X4, Canada
The CN Tower is the tallest free-standing structure in the Western hemisphere.  There is no need to search for "tourist attractions near me," because the CN Tower is visible from almost anywhere in Toronto. The CN Tower structure weighs 130,000 tons and costs 51 million Us dollars to build.
The elevators are known to the locals as "bugs", named for their beetle shape, and they will transport you to the top of the tower in less than a minute.  The tower was named one of the Modern Seven Wonders of the World by the American Society of Civil Engineers.
There are a number of fun activities that you can complete on your visit to the tour.  The LookOut level allows you to walk around the tower, and take in the views.  SkyPod is an even higher observation deck, where you will be able to see Niagara Falls, as far as 100 miles away.
If you are feeling brave, you can complete an EdgeWalk, the world's highest hands-free walk.  You will circle a ledge 1168 feet off the ground, strapped to the tower by a cord.  You can also complete an EdgeWalk for your wedding, costing $6000 CAD for 8 guests.
Inside the tower, there is a 256 square foot space of solid glass, which allows you to look all the way down the tower to the ground.  The CN Tower's revolving restaurant makes a full turn per hour, making it the perfect way to see Toronto with a 360 view.
Be sure to look down at the Roger's Center (formally the SkyDome), the first venue with a fully retractable motorized roof.  It hosts the only Canadian Major League Baseball (MLB) team, the Blue Jays.
The tower also hosts a retail space, sandwich shop, and coffee shop.  It is located in the heart of downtown, easily accessible by the subway, and surrounded by restaurants, shopping, and other attractions.
Tuesday
10:00 AM - 8:00 PM
Wednesday
10:00 AM - 8:00 PM
Thursday
10:00 AM - 8:00 PM
Saturday
10:00 AM - 8:00 PM