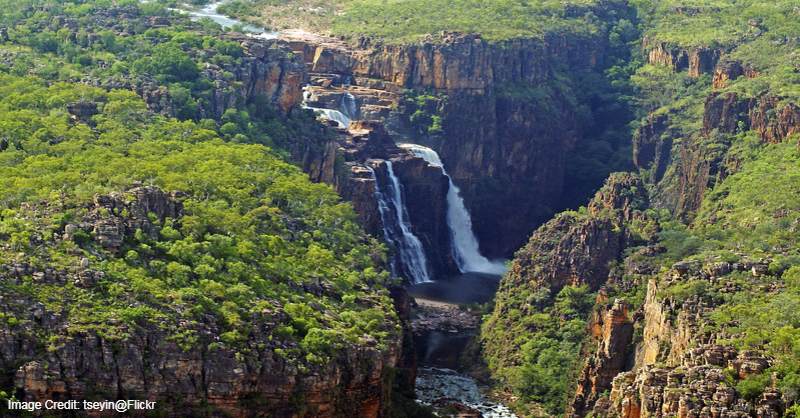 Kakadu, Northern Territory 0822, Australia
When you pick your phone or get on your laptop to type "tourist attractions near me," especially around Darwin, Australia,  Kakadu National Park is a location to look out for. It is the largest National Park in Australia and also one of the largest in the world's tropics. It is located in the southeastern part of Darwin in the Northern Territory of Australia. In 1981, UNESCO announced it as one of its World Heritage sites. This has increased the popularity of Kakadu as one of the tourist attractions in the world.
This tourist attraction contains a unique archeological and ethnological reserve that has been a habitat for many things for over 40,000 years. The existence of cave paintings, rock carvings, and archeological sites stand as the testament of the prehistoric times of the hunter-gatherers up to the time of the Aboriginal group currently populating the place.
The park is a complex ecosystem with tidal flats, floodplains, lowlands, and plateau that serves as a habitat for a great number of uncommon species that need to be protected against extinction. It is equally noted that the name, Kakadu, could have been derived from the poor pronunciation of the original language of the Aboriginal people living in the north-western part of the park. Kakadu National Park has 4 major river systems, 6 major landforms, a concentration of a variety of species and wildlife, and many cascading waterfalls like the Jim Jim Falls and Twin Falls.
The National Park is a good place to enjoy the comfort of nature and admire the beauty of the place that hosted the hunter-gatherers of prehistoric times and still wear the expression of their genius attributes. It is a place for everybody irrespective of age. When we talk about nature and how fascinating it is with the pure atmosphere that fills the space where it is prominent, the perfect place we think the idea of nature we paint in our head can be is Kakadu. In 2002, about 250,000 visitors were at Kakadu.
Source: UNESCO, Park Australia, Wikipedia