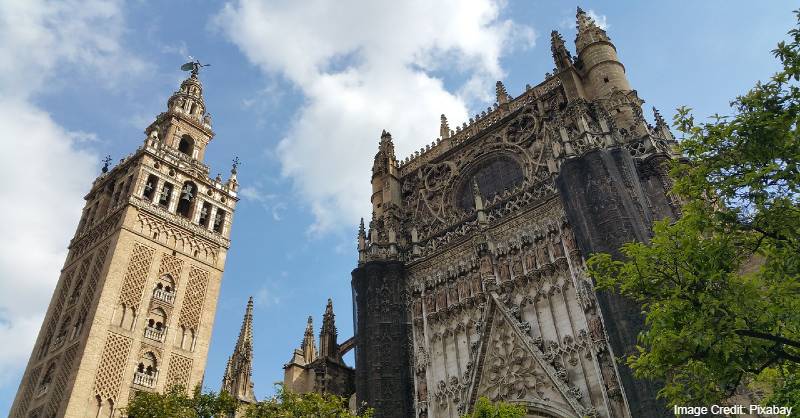 Catedral de Santa María de la Sede, translated in English as Cathedral of Saint Mary of the See, is commonly known as the Seville Cathedral, one of the most popular tourist attractions in Spain. It is a Roman Catholic cathedral that was confirmed as a World Heritage Site by UNESCO in 1987. It is currently occupying the number 4th position of largest churches in the world. Also, it is the largest Gothic church to date. The cathedral has four facades with fifteen doors serving as their entry point.
The Cathedral was built by the caliph of Almohad Caliphate, Abu Yaqub Yusuf from 1182-1198. It was to be a grand mosque where the residents of the caliphate would go for prayers. This was possible until the conquest of Ferdinand III. After this conquest, the mosque was seized and converted to the city's cathedral. Together with this came new development such as the partitioning and adorning of its space to align with the Christian kind of worship.
Aside from its aesthetics and historical significance, there are notable things to find inside the cathedral. For instance, it is believed that the tomb of Christopher Columbus, the man said to have discovered America is located inside the cathedral. Also, the tombs of kings Ferdinand III and Alfonso X are also in the cathedral.
The significance of this tourist attraction has made it the destination of many tourists intending to have a view of its magnificent structure and beautifully crafted design. It is recommended for lovers of arts, architecture, and history.
Visiting Spain for tourism can expose you to many churches. But if you have not been to Catedral de Santa María de la Sede, then revisiting Spain must be included in your bucket list.
Aside from the regular opening hours, there is a break from 2:00 pm to 2:45 pm every day during which tourists are not permitted to gain entry into the museum. With €10, you can enjoy a tour of this cathedral.
Source: Wikipedia, Catedral de Sevilla
Tuesday
10:45 AM - 4:45 PM
Wednesday
10:45 AM - 4:45 PM
Thursday
10:45 AM - 4:45 PM
Saturday
10:45 AM - 4:45 PM