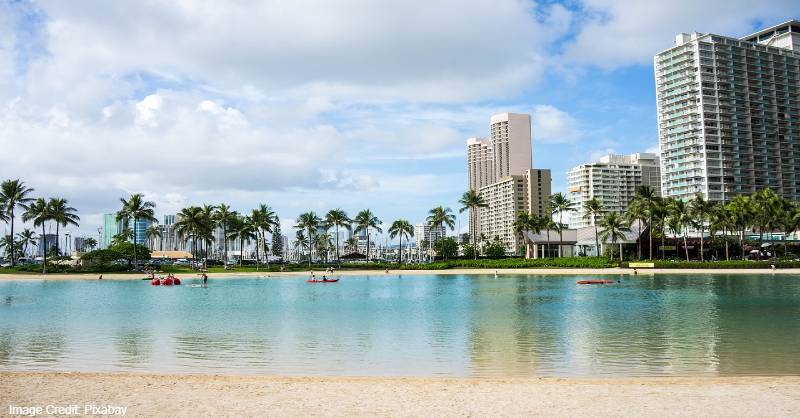 2365 Kalakaua Avenue , Honolulu, Hawaii 96815, United States
Waikiki Beach is one of the most beautiful beaches in Hawaii, and it is also said to be the most famous beach in the Pacific Ocean, if not the world.
This 2-mile stretch of white sand beach, which is semi-surrounded by towering high-rises, busy streets, and boutique resorts, was once a playground for Hawaiian royalty, who enjoyed surfing on longboards in the 1800s. The longboard sports tradition, when conditions are right, continues till today.
Tourists can also surf, canoe paddle, snorkel, swim, boogie board, sand combing, catch a golden tan, sightsee, or just watch a few beautiful Waikiki sunsets.
The beach's proximity to shopping and dining centers adds to what makes the Waikiki Beach, a small section of Oahu, a popular tourist attraction for everyone.
The over 4 million tourists that visit the beach every year goes to prove that it is definitely among the most popular tourist attractions in the world.
And there are various types of hotels and accommodation nearby to cater to these many numbers of tourists that flock to this famous beach every year.
Tuesday
11:00 AM - 9:00 PM
Wednesday
11:00 AM - 9:00 PM
Thursday
11:00 AM - 9:00 PM
Saturday
11:00 AM - 9:00 PM