The saying "that do not judge a book by its cover" truly holds water. To elucidate further on the adage, have you ever come across someone and probably underestimated them because of, for example, their current profession, the way they speak or look, only to discover, surprisingly, what that individual has been able to accomplish? I know have, and I bet that many of you have too.
One such field where we see people and never expect them to have an impressive portfolio that is beyond what we imagined is in the entertainment sector.  Most of us would never have thought that some of these actors and actresses were actually highly educated, with doctorates and masters from outstanding schools, before they decided to take up an acting career.
This posts will list 20 stars and celebrities that have displayed an incredible degree of determination, perseverance, and sacrifice, becoming bona fide scientists. That's right, to rephrase, our list is composed of some of the academically smartest members of the entertainment industry.
Read on to learn about these fascinating and inspiring individuals:
01 – Rowan Atkinson: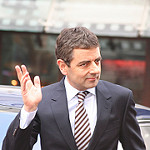 Rowan Sebastian Atkinson is a world-renowned British actor and comedian. Atkinson, who was born on January 6, 1955, is primarily known for playing the character of Mr. Bean, an irreverent and mischievous man-child. Few, who have laughed and chortled with Mr. Bean's antics, would never have guessed that Mr. Atkinson is an electrical engineer with a master's degree from Oxford.
02 – Ken Jeong: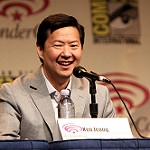 Who can forget Ken Jeong's insanely hilarious take on a Chinese gangster in the trio of comedies: The Hangover parts I, II, an III? Few people on this list can boast of being as funny as they are smart, but Ken Jeong indeed can. While he was killing the comedy circuit, Ken was able to finish his undergraduate degree at Duke University and later his medical degree from the University of North Carolina.
03 – Mayim Bialik: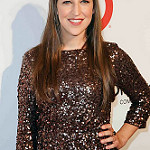 Mrs. Mayim fell in love with science in High School thanks to an eccentric teacher who managed to inspire her with dreams of being a brilliant scientist and researcher. Bialik, who rose to fame during the '90s as the titular character of the Sitcom, Blossom, got her Ph.D. in Neuroscience from UCLA in 2007.
04 – Graham Chapman: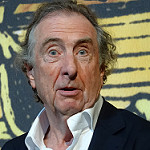 The Monty Python comedic group is responsible for some of TV and Cinema's most memorable and belly-shaking moments, and one of its founding and most recognizable members, Mr. Graham Chapman was smarter than most. In 1959, he applied and was accepted, without much difficulty, to Cambridge where he would study medicine.
05 – Brian May:
Not an actor, but one of the world's most legendary musicians. Mr. Brian May is also one of the world's greatest scientists. Most of us know him as the lead guitarist of the band, Queen. But Brian May is also known in the academic world as one of the primary collaborators of NASA's New Horizons Pluto mission. Mr. May, a literal rocket scientist, even has an asteroid named after him.
06 – Dexter Holland: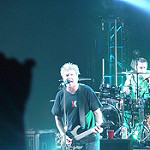 Another world-famous musician, Dexter Holland is best known as the lead singer of the punk-rock band, The Offspring. But did you know that Mr. Holland studied microbiology at the University of Southern California? Besides his Bachelor's degree in microbiology, Holland also possesses a Master's and a Ph.D. degree in Molecular Biology. Can you take a guess as to what his academic dissertation was on? It was a 175-page dissertation on the molecular interactions between HIV and its host. Cool!
07 – Dara Ó Briain:
Dara has the privilege of being one of the most recognizable faces on British television. Born in Ireland, Mr. Ó Briain graduated from the University of Dublin, where he earned a degree in Math and Theoretical Physics.
08 – Dolph Lundgren: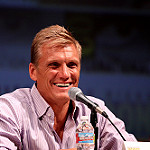 Dolph Lundgren is a Swedish actor, director, screenwriter, and producer, who is best known for playing the role of Ivan Drago in the movie Rocky IV. His menacing on-screen persona belies his real-life intellect, which allowed Mr. Lundgren to earn a Master's degree in Chemical Engineering and an impressive Fulbright Scholarship to MIT.
09 – George Miller: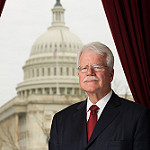 Behind one of Hollywood's greatest classic movies, the Mad Max trilogy, lies the mind of George Miller. This Australian movie director, screenwriter, and producer graduated from the medical school at the University of New South Wales and spent his residency years treating patients and working on his first experimental short films.
10 – Teri Hatcher: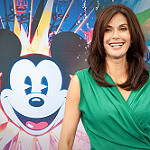 Most people fell in love with her during her stint as one of the desperate housewives, but I will always remember her as Lois Lane from the adventures of Lois and Clark. Teri Hatcher is a beautiful woman and extremely smart to boot. You don't have to take my words for it, but maybe her mathematics and engineering degrees from De Anza College in Cupertino can change your mind.
11 – Ben Miller:

The English actor, Ben Miller, is best known for his comedic work, which does not do him justice because the man is brilliant. Born in London, Miller earned his Ph.D. in solid-state physics from Cambridge. The title of his thesis, "Novel quantum effects in low-temperature quasi-zero-dimensional mesoscopic electron systems," can give you an idea on the type of intellect we are dealing with here. Miller might be a funny guy, but he is also a brilliant scientist.
12 – Natalie Portman: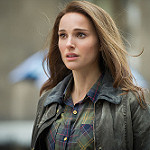 Natalie Portman has been wowing audiences since she was a little girl. Her breakthrough role as Matilda, in Luc Besson's Leon: The Professional, cemented her as a star. Perhaps her most memorable part came as Princess Padme Amidala in the Star Wars prequels. But one of her most significant achievement, which most folks don't know about, is in the academic sector, where she co-authored a research paper on the neuroscience of children's cognitive development.
13 – Ashton Kutcher: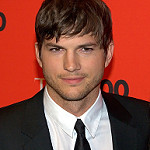 Ashton Kutcher, a male model, rose to fame as the dumb guy in "That 70's Show," which aired between 1998-2006. But his real-life IQ of 160 puts him in the top percentile of the brilliant folks in the world– the man is a certified genius. Kutcher studied biochemical engineering at the University of Iowa where he attempted to find a cure for cerebral palsy.
14 – Bill Nye: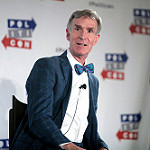 Bill Nye is the science guy, and he will always be the science guy. William Sanford Nye is responsible for inspiring thousands of people to pursue careers in science, technology, engineering, and mathematics. Mr. Nye began his career as a mechanical engineer working for Boeing, but he will be eternally remembered as the host of the best PBS educational children's science show ever.
15 – Cindy Crawford:
Cindy Crawford is one of the world's most beautiful women, and also one of the most famous models. She dominated the runway during the '80s and '90s. But did you know that she also dominated her high school graduating class? Crawford was her school's Valedictorian, and she also earned her a full academic scholarship to study chemical engineering at North Western University.
16 – Lisa Kudrow: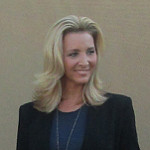 Phoebe, from the fan-favorite sitcom Friends, was so anti-establishment that she would never be caught dead working in the fields of science; Lisa Kudrow, the actress that plays Phoebe, however, has conducted scientific research under the guidance of her world-renowned neurologist father, Dr. Lee Kudrow.
17 – Christy Turlington:
Another world-famous model, Christy Turlington has been the face of huge brands such as Calvin Klein and Maybelline, and she has even been named on Time's list of the most influential people in the world. She embarked on getting her Master's degree, at the age of 40 years, in  Public Health from Columbia University. But that venture is currently on hold due to her other pressing engagements.
18 – Art Garfunkel:
Art Garfunkel is a musical legend, and his songs will go down in history as some of the most beautiful music ever written. Did you know that he also holds an advanced degree in Mathematics?
19 – Tom Scholz:
Tom Scholz is an American musician, famous all over the world for being a guitarist for the rock band, Boston. Scholz, before dedicating his career to music, graduated as an engineer from MIT, where he also completed a master's degree.
20 – Carl Sagan:
Carl Sagan is undoubtedly one of history's most famous scientists. The man did it all: He was an astronomer, astrophysicist, cosmologist, astrobiologist, writer and science popularizer. He was also a staunch advocate of scientific thinking and methods, and gained immense popularity thanks to his participation in one of the most excellent television shows ever made, "Cosmos: A Personal Voyage."
Image Reference
https://commons.wikimedia.org/
Actors
Actresses
Education
Entertainers
Musicians
Science